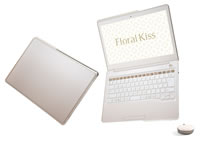 According to a study performed by Parks Associates earlier this year, women were more likely than men to buy tablets, laptops, and smartphones.  In 2010, women purchased an average of 4.7 devices, while men purchased 4.2 products. And when they do purchase an item, women tend to use it more heavily because they tend to be more engaged with digital media (videos, music, and pictures).
As an electronics manufacturer armed with this data, it probably makes sense to either target your marketing to this demographic or start making products specifically for this group.  Right?
A few years ago, Dell introduced a site called "Della" to market notebooks to women. Rather than selling the computers based on their technical specs, Dell tried a different tactic – touting how cute the computers were, showing off great accessories, and explaining how a notebook could change your life by helping you cook, shop, and count calories.  Instant backlash forced the company to change the site within its first week, and today, Della is no more.
But recently, Japanese computer maker Fujitsu assigned a team of female engineers to develop a more feminine machine. It's introducing a new Ultrabook that will be marketed under the "Floral Kiss" brand. The laptops will initially be available in three colors: Elegant White, Feminine Pink, and Luxury Brown. Coming soon is a purple version, created in conjunction with Japanese jewelry brand agete. If the colors alone weren't girly enough, the laptop will have pearl, gold, and "zirconia adornments." Also, an easy-to-open clasp that won't damage your manicure.  Whew!
It doesn't stop there. The computer will also come preloaded with apps: scrapbooking software, a diary, and horoscopes.  (Hey Fujitsu – you forgot a cookbook and a calorie-counting app.  Maybe those are coming soon.)
An important fact that these manufacturers missed in the study is that the number one reason women purchased a product was ease of use. Not because of the color or preloaded apps that will help them with their scrapbooking or counting calories. I have no doubt there's a market for these things. You can still get your Dell laptops in any color and pattern you can imagine. And I'm sure there are thousands of scrapbooking and horoscope apps to choose from in iTunes.  It's the packaging of all of these things together that gets tricky.  
Eh, it could be that I'm just a little over-sensitive to this.  There could be a large market out there that appreciates this approach.  Maybe I'll just shut down my plain grey computer now, put it in my rocking pink laptop bag, and go scrapbooking (or code stuff, whatever).